Kelly Mott Interior Solutions 

Specializing in Professional Organizing and Home Staging Services, we are here to help you create functional spaces that reflect your personality and lifestyle. We make sure that the job is completed from beginning to end and that as our customers you are happy with the quality of services received throughout the process. We provide a full range of professional organizing and home staging services in Columbus, GA and surrounding areas. We will work with you one on one to meet your time and budget requirements.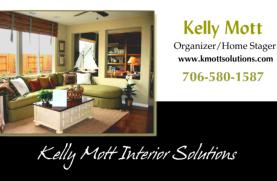 Whether your DREAM HOME is right around the corner or already inside these walls, we are dedicated to helping you create a special place you'll love calling HOME.

Our staging solutions help prepare your house for a quick and profitable sale.